Doppstadt Cremathor Espresso-Blend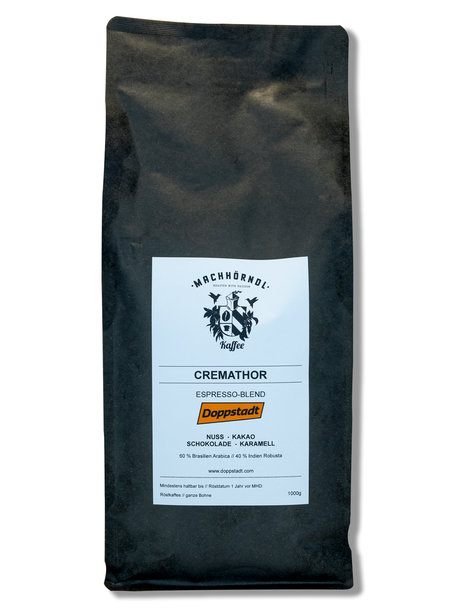 Our Cremathor espresso blend is roasted at Machhörndl Kaffee, a small specialty coffee roaster in Nuremberg. The roasting plant has been in existence since 2008 and focuses on green coffee - its 25 kg Probat drum roasters only produce seasonal harvests of the highest quality, 100% traceable. Gentle, light roasting preserves the character of the coffee and emphasises its unique taste characteristics.
The Cremathor is a full-bodied blend consisting of 60% Brazilian Arabica beans and 40% Indian Robusta beans. The Arabica part provides fine aromas, while the Robusta gives the coffee a creamy texture and a full body.
Brewing tip: This coffee is best suited for preparation in a sieve carrier machine or in a fully automatic coffee machine, optionally as espresso or cafe crema, in combination with milk of course a delicious base for cappuccino or latte machiato
ATTENTION: Shipping only possible within the European Union.
Best before date: 06.Sep. 2023
Do you have any questions on this item?
also purchased items